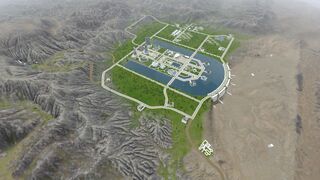 Oasis Landing is a futuristic sub-world shipped with The Sims 3: Into the Future. It is set in the distant future, relative to other worlds in The Sims series. Sims can engineer children, something that is not possible anywhere else. They can buy (or build) a Plumbot, or sell one to the masses, set up a digiblast display, or even buy new high-tech stuff from the imports gallery.
Unlike other sub-worlds in The Sims 3, Sims are able to stay in Oasis Landing indefinitely.
There are three types of Oasis Landing: normal, utopian and dystopian. The player starts out in the normal future, but can alter it to a utopian or dystopian future by tampering with certain aspects of life in the present.
Total number of lots: 65
Lots 20×20: 0
Lots 20×30: 0
Lots 30×30: 11
Lots 30×40: 1
Lots 40×40: 22
Lots 40×50: 0
Lots 50×50: 12
Lots 50×60: 0
Lots 60×60: 9
Lots 64×64: 4
Odd-sized lots: 6
List of lots and houses in Sims University world
Took me about 1 hour to compile the below table.
Please do not copy it on other websites without crediting www.teoalida.com/thesims
| Lot address | Lot size | Building name | Family name |
| --- | --- | --- | --- |
| Downtown | | | |
| 1282 Division Street | 50×31 | (Fishing Spot) | |
| 1320 Division Street | 40×60 | Oasis Landing Community Center (Base Camp) | |
| 1352 Division Street | 50×31 | (Fishing Spot) | |
| 304 Emulation Blvd. | 30×40 | Nuts n' Bolts Bot Emporium (Bot Emporium) | |
| 313 Emulation Blvd. | 60×40 | (Fishing Spot) | |
| 326 Emulation Blvd. | 64×64 | Modern Arcology Bot Arena (Bot Competition Arena) | |
| 339 Emulation Blvd. | 40×40 | Reflective Park (Big Park) | |
| 350 Emulation Blvd. | 60×60 | Tammy's Spa & Books (No Visitors Allowed) | |
| 355 Emulation Blvd. | 25×60 | Twin Fountain Park (Small Park | |
| 383 Emulation Blvd. | 50×50 | Legacy Park (Business Park) | |
| 394 Emulation Blvd. | 60×60 | The Erutuf (Future Lounge) | |
| 407 Emulation Blvd. | 60×60 | Oasis Landng City Hall (No Visitors Allowed) | |
| 426 Emulation Blvd. | 60×60 | Oasis Landing Community Hospital & Science Center (No Visitors Allowed) | |
| 1312 Enlightened Heights | 50×50 | The Lending Library (Library) | |
| 425 Proclivity Promenade | 60×60 | Mercury Stellar Observatory (Science Lab) | |
| 395 Proclivity Promenade | 60×60 | The Utopian (No Visitors Allowed) | |
| 361 Proclivity Promenade | 50×50 | EP-XI Imports Gallery (Gallery Shop) | |
| 337 Proclivity Promenade | 40×40 | Sam's Synth'd Staples (Cafeteria) | |
| 309 Proclivity Promenade | 64×60 | HoloVenture Theater (No Visitors Allowed) | |
| 1274 Wet Basin Bend | 30×30 | Island in the Sun – 2 br, 2 ba | Formerly the Plains Express |
| 1306 Wet Basin Bend | 30×30 | Comfort Capacitor – 3 br, 4 ba | Planeson |
| 1319 Wet Basin Bend | 50×50 | Downtown ZEPHYR Stop | |
| 1330 Wet Basin Bend | 30×30 | Isla Profeco Vacation Home – 3 br, 2 ba, 2 hb | Party Playpen |
| 1360 Wet Basin Bend | 30×30 | Auspicious Atoll – 3 br, 3.5 ba | |
| West side | | | |
| 223 Ascension Avenue | 40×40 | The Humboldt – 3 br, 2 ba | Dunes |
| 407 Ascension Avenue | 40×40 | The Opulent Domain – 1 br, 1.5 ba | The Bot Cave |
| 410 Ascension Avenue | 40×40 | Mining District ZEPHYR Stop | |
| 432 Ascension Avenue | 50×50 | 432 Ascension Avenue | |
| 1440 Division Street | 40×40 | The Terrace – 1 br, 1 ba | Spector |
| 1222 Shoreline Drive | 40×40 | | |
| Mining | | | |
| 490 Precipice Parkway | 30×30 | Amorous Abode – 2 br, 1 ba | Mere-Wilkins |
| 493 Precipice Parkway | 30×30 | Austere A-Frame – 1 br, 1 ba | |
| 508 Precipice Parkway | 30×30 | Jairo's Homestead – 3 br, 1 ba | Larson |
| 511 Precipice Parkway | 30×30 | Ephrem's Ancestral Plot – 4 br, 2.5 ba | Mannin |
| 538 Precipice Parkway | 50×50 | The Bunkhouse – 5 br, 4.5 ba | Bannister |
| 551 Precipice Parkway | 30×30 | Miner's Park (Small Park) | |
| 556 Precipice Parkway | 40×40 | The Mine (Future Longue) | |
| 583 Precipice Parkway | 64×64 | Forgotten Fishing Hole (Fishing Spot) | |
| East side | | | |
| 1130 Acclivity Ridge | 60×60 | Panopticon Luxury Home – 3 br, 3 ba | Orey |
| 1240 Acclivity Ridge | 40×40 | Pleasant Meadows Cemetery (Graveyard) | |
| 1104 Cordial Court | 64×64 | Argonaut Archological Mansion – 3 br, 3 ba | |
| 1106 Cordial Court | 30×30 | Water Werks Park (Small Park) | |
| 1120 Cordial Court | 40×40 | Cellato Coronarium – 3 br, 4 ba | Castle |
| 1220 Division Street | 40×40 | Terrarium Tower – 2 br, 3 ba | The Beaker Twins |
| 1146 Enlightened Heights | 64×64 | | |
| 1198 Enlightened Heights | 40×40 | | |
| 234 Intrinsic Way | 40×40 | Cubion Solo Home – 1 br, 1.5 ba | Gateway |
| 235 Intrinsic Way | 50×50 | Wasteland ZEPHYR Stop | |
| 391 Intrinsic Way | 50×50 | Residential ZEPHYR Stop | |
| 405 Intrinsic Way | 30×30 | | |
| 422 Intrinsic Way | 50×50 | Loel's Longue (Future Longue) | |
| 1100 Serenity Drive | 60×60 | Harborial Habitat – 3 br, 3.5 ba | Landgraab |
| 1103 Serenity Drive | 40×40 | Terra Verdantis Family Home – 1 br, 2 ba | Plumbot |
| 1124 Serenity Drive | 40×40 | Playful Public Pool (Pool) | |
| 1125 Serenity Drive | 50×50 | Ehrlich's Sustainable Estate – 2 ba, 2 br, 2 hb | Archiilt Estate |
| 1191 Serenity Drive | 50×50 | The Hot Pad – 3 br, 3.5 ba | Longing Gazes |
| 1218 Serenity Drive | 50×50 | Natural Nursery – 3 br, 3 ba | Russo |
| 1138 Shoreline Drive | 40×40 | | |
| 1171 Shoreline Drive | 40×40 | | |
| Waste | | | |
| 108 Arid Avenue | 40×40 | Crash Site (Wasteland) | |
| 1383 Desolation Drive | 40×40 | Barren Wasteland (Wasteland) | |
| 1437 Desolation Drive | 40×40 | | |
| 1504 Desolation Drive | 40×40 | Lodge on a Ledge – 1 b4, 1 ba | Obi |
| 146 Intrisic Way | 40×40 | Derelict Beach (Dried Up Beach) | |
| 1488 Shoreline Drive | 60×60 | "The Campus" – 5 br, 6 ba, 2 hb | |