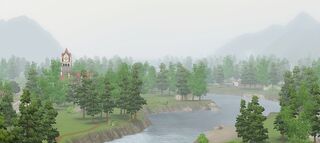 Moonlight Falls is a world featured in The Sims 3: Supernatural. It was first seen in the official announcement trailer.
The Sims 3 producer, Kari St. John, stated that Moonlight Falls was "inspired by the misty valleys of the Pacific Northwest". EA representatives have not gone into detail about the world, but have described it as a mysterious town, filled with mystical creatures.
It is situated near mountains with snowy peaks. The world has a variety of new rabbit holes, including Create a World assets, including a town hall, a mausoleum, and a water tower. There are a lot of trees in the area, as well as a river which leads to a waterfall and two rusted or wooden bridges over the river. There is also a small flat bridge, possibly concrete, across the river right before the waterfall.
Moonlight Falls comes with character stories, such as feuding between founding families. The vampire family (the Van Goulds) and the werewolf family (the Wolffs) are at odds over who founded Moonlight Falls. The patriarch of the Van Gould family is Ayden Van Gould, and the patriarch of the Wolff family is Pappy Wolff. Despite the feuding, the younger generations of these families have found love.[4]
It seems that many of the Sims found in Moonlight Falls make reference to supernatural-themed media. For example, The Twilight Saga is referenced in the Swain Family, Marigold Maldano appears to be a nod to Sookie Stackhouse of True Blood and the Roommates Supernatural household bears a resemblance to the series Being Human. Other series possibly referenced in this neighborhood include Charmed, Bewitched, Harry Potter and Grimm. As well as these cultural references, the Bloom Institute of Wellness and Commonwealth Court are based on real-world buildings (Toronto's Victoria Hospital for Sick Children and Lowell, Massachusetts' city hall respectively).
Moonlight Falls is a unique town, as it seems to have a mountain group in the centre of the Supernatural Town. There is a large amount of bridges suggested for transportation around town. There is a beach that almost looks like a rocky coastline on the middle-east area of the suburb.
It has a very similar layout to The Sims: Makin' Magic neighborhood Magic Town, including a rocky river in the same shape that cuts through the town, a waterfall and bridge in the same place, a mountain range, and the same type of trees throughout the town.
Unlike the vampires in Bridgeport, the vampires in Moonlight Falls don't tend to have the Evil Trait.
Total number of lots: 81
Lots 20×20: 6
Lots 20×30: 6
Lots 30×30: 11
Lots 30×40: 6
Lots 40×40: 30
Lots 60×60: 0
Lots 40×50: 0
Lots 50×50: 6
Lots 50×60: 0
Lots 64×64: 5
Odd-sized lots: 11
List of lots and houses in Moonlight Falls world
Took me about 1 hour to compile the below table.
Please do not copy it on other websites without crediting www.teoalida.com/thesims
| Lot address | Lot size | Building name | Family name |
| --- | --- | --- | --- |
| Main side of river | | | |
| End of Big Pine Trail | 40×60 | Stone Troll Fishing Hole (Fishing Spot | |
| 89 Horseshoe Bend | 40×40 | | |
| 90 Horseshoe Bend | 40×40 | Petite Pony Equestrian Center (Equestrian Center) | |
| 90 Horseshoe Bend | 64×64 | (Small Park) | |
| 94 Horseshoe Bend | 30×40 | H Two the O Indoor Pool (Pool) | |
| 96 Horseshoe Bend | 30×40 | (Visitors Allowed) | |
| 104 Horseshoe Bend | 30×30 | Performance Park (Big Park) | |
| 123 Horseshoe Bend | 64×50 | Everglow Academy & Coliseum (No Visitors Allowed) | |
| 149 Horseshoe Bend | 40×40 | (Small Park) | |
| 155 Horseshoe Bend | 30×30 | Country Living – 2br, 2.5 ba | Singh |
| 163 Horseshoe Bend | 40×40 | The Toadstool (Supernatural Hangout) | |
| 404 Huckleberry Lane | 40×40 | The Tree House – 2br, 1ba | Goodfellow |
| 414 Huckleberry Lane | 25×30 | Desirable Classic – 2br, 2.5ba | |
| 424 Huckleberry Lane | 50s40 | Bloom Institute of Wellness (No Visitors Allowed) | |
| 428 Huckleberry Lane | 40×40 | (Visitors Allowed) | |
| 431 Huckleberry Lane | 40×40 | Graceful Getaway – 4br, 1ba | Durwood |
| 438 Huckleberry Lane | 40×40 | Witch's Cove – 5br, 3.5ba | Crumplebottom |
| 16 La Shove Road | 40×60 | La Shove Beach (Beach) | |
| 204 Lakeside Drive | 20×20 | The Craftsman's Mansion – 2br, 1ba | |
| 2 Lupine Lane | 20×20 | The Humble House – 1br, 1ba | Pappy |
| 13 Lupine Lane | 20×20 | Efficient Above – 1br,1ba | Farmwell |
| 20 Lupine Lane | 20×20 | Cozy Retreat – 1br, 1ba | |
| 29 Lupine Lane | 20×20 | Manufactured Magnificence – 2br, 1ba | Nix |
| 31 Lupine Lane | 20×20 | Stately Starter – 1br, 1ba | |
| 302 Knott Street | 40×40 | | |
| 305 Knott Street | 40×40 | (Small Park) | |
| 309 Knott Street | 30×20 | Barney's Salon and Tattoo (Salon) | |
| 310 Knott Street | 20×30 | Community Fire Department (Fire Station) | |
| 320 Knott Street | 40×40 | Mellow Manor – 5br, 3ba | MacDuff |
| 323 Knott Street | 50×50 | Lap of Luxury – 4br, 4.5ba | Ivy |
| 327 Knott Street | 20×30 | Affordable Elegance – 2br, 1ba | |
| 336 Knott Street | 30×30 | Aleister's Elixirs and Sundrie (Elixir Consignment Store) | |
| 338 Knott Street | 40×40 | Zoomsweeper Test Track | |
| 344 Knott Street | 30×30 | Sam' Market Diner (No Visitors Allowed) | |
| 347 Knott Street | 30×30 | The Bay View – 2br, 1.5ba | Maldano |
| 348 Knott Street | 40×40 | Mind-Body Connection Bookstore & Spa (No Visitors Allowed) | |
| 1120 Merchant Way | 25×30 | Pleasant Place – 4br, 4 ba | |
| 1126 Merchant Way | 25×25 | Refined Elegance – 3br, 2ba | Roommates Supernatural |
| 1129 Merchant Way | 30×30 | Dionysus' Dwelling -1br, 1.5ba | Grimm |
| 1135 Merchant Way | 20×30 | Landgraab Sell n' Swap (Consignment Store) | |
| 1138 Merchant Way | 40×40 | | |
| That Old Trail | 50z50 | That Old Fishing Hole (Fishing Spot) | |
| 2301 Waning Way | 20×30 | Grady's Junkstop (Junkyard) | |
| 2303 Waning Way | 40×40 | Varg's Tavern (Supernatural Hangout) | |
| 2316 Waning Way | 40×40 | Spacious Revival – 4br, 3ba | Wolff |
| 2327 Waning Way | 40×40 | | |
| 2336 Waning Way | 30×30 | Bell's Barbell House (Gym) | |
| 2345 Waning Way | 64×64 | (Visitors Allowed) | |
| 108 Wood Street | 40×30 | Library of Lore & Vault of Antiquity (Library) | |
| 110 Wood Street | 50×50 | Eerie Park (Big Park) | |
| 111 Wood Street | 50×50 | Commonwealth Court (Visitors Allowed) | |
| 112 Wood Street | 40×20 | Playful Playground (Small Park) | |
| 114 Wood Street | 40×40 | Victoria's Victorian Home – 4br, 4.5ba | |
| 120 Wood Street | 30×30 | Quaint Settlement – 2br, 2ba | Swain |
| 126 Wood Street | 50×50 | | |
| 130 Wood Street | 40×40 | Stunning Revival – 3br, 3ba | |
| 137 Wood Street | 50×50 | Quaint House – 2br, 2.5 ba | |
| 142 Wood Street | 30×40 | Great Greek – 2br 1.5ba | Rodgers |
| 160 Wood Street | 40×40 | Outdoorsman's Delight – 2br, 2.5ba | Roommates Vegan |
| 164 Wood Street | 64×45 | Fae Ray Gardens (Small Park) | |
| Other side of river | | | |
| End of Moonlight Trail | 30×30 | Moonlight Park (Small Park) | |
| 1105 Merchant Way | 40×40 | Moonlight Falls Historical Society & Museum (Art Museum) | |
| 1109 Merchant Way | 40×40 | Deja View Theatre | |
| 1110 Merchant Way | 30×30 | Van Gould Merchant House & Cafe (No Visitors Allowed) | |
| 20 N Falls Ave | 40×30 | Red Velvet Longue (Vampire Longue) | |
| 41 N Fallls Ave | 40×40 | (Small Park) | |
| 71 N Falls Ave | 40×40 | (Small Park) | |
| 81 N Falls Ave | 30×30 | Gypsy's Landing | |
| 29 S Falls Ave | 64×64 | | |
| 37 S Falls Ave | 20×30 | Comfortable Classic – 2br, 1ba | |
| 49 S Falls Ave | 30×40 | Hallowed Grounds Cemetery (Graveyard) | |
| 205 Valley View Drive | 64×64 | (Small Park) | |
| 206 Valley View Drive | 40×40 | (Small Park) | |
| 212 Valley View Drive | 40×40 | Petite Mansion – 4br, 4.5ba | |
| 230 Valley View Drive | 64×64 | Massively Massive Mansion – 3br, 3ba, 3hb | Van Gould |
| 249 Valley View Drive | 40×40 | Abundant Richness – 5br, 3.5ba | Goth |
| 261 Valley View Drive | 50×50 | | |
| 262 Valley View Drive | 50z50 | Modern Mansion – 5br, 5ba | |
| 270 Valley View Drive | 40×40 | (Small Park) | |
| 277 Valley View Drive | 40×40 | Minimally Modern – 2br, 2ba | Pok |
| 278 Valley View Drive | 40×40 | | |