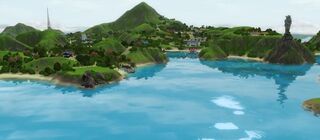 Isla Paradiso is a world featured in The Sims 3: Island Paradise. The town is an archipelago of many islands and is used to showcase the many features of Island Paradise.
Isla Paradiso is located in the seas, consisting of two main islands and many small islands scattered around. The town is similar to Sunlit Tides, which is also based on a tropical island theme, although Isla Paradiso has even more islands. Unlike Sunlit Tides, which has a Pacific theme, Isla Paradiso has Caribbean and Spanish themes. The architecture of the town is either Spanish, beach, or modern.
Isla Paradiso has unique features that are not available in other worlds by default. For instance, it's the only world that has diving areas for Sims to scuba dive and explore underwater, although some advanced players can also make their own in other worlds. It also has 8 hidden islands, surrounding the town, which can be discovered in certain ways. Once discovered, the island will be automatically owned by the discoverer. Sims can turn the island into a private secondary residential lot, or into a resort. Similar to World Adventures adventure destinations, Isla Paradiso is also scattered with treasure chests, hidden in the islands or underwater.
There are 3 pre-built resorts in Isla Paradiso, which have unique themes of their own. The resorts are Hobart's Hideaway (beach style), La Costa Verde (Spanish style), and Sparkling Sands (modern style). Hobart's Hideaway can be purchased for free, and it is intended to be a starting resort to help players familiarize with resort management. In addition, there are many ports and premade houseboats in Isla Paradiso. Other residents can be seen moving the houseboats, so it's not only the player who will move the inhabited houseboats.
One special feature from Isla Paradiso is Kraken sightings. The Kraken will occasionally appear underwater when the houseboat is in the middle of the ocean for a long time, and may attack Sims if they are on a boat. The Kraken will only appear in Isla Paradiso due to the depth of the oceans there; most other worlds in The Sims 3 have shallow bodies of water that cannot support the Kraken. However, the Kraken may be sighted far out into the ocean in Sunset Valley and Lucky Palms, where the water is deep enough
Total number of lots: 118
Lots 20×20: 4
Lots 20×30: 13
Lots 30×30: 9
Lots 30×40: 8
Lots 40×40: 6
Lots 40×50: 0
Lots 50×50: 2
Lots 50×60: 0
Lots 60×60: 2
Lots 64×64: 13
Odd-sized lots: 61
List of lots and houses in Isla Paradiso world
Took me about 1 hour to compile the below table.
Please do not copy it on other websites without crediting www.teoalida.com/thesims
Lot address
Lot size
Building name
Family name
Anchor place
Isla Paradiso – Central
54 Civic Center
26×26
Nautical Museum (Art Gallery)
58 Civic Center
30×26
Ble Sky Movie Theater (No Visitors Allowed)
68 Civic Center
24×40
Paradise Pub (Visitors Allowed)
70 Civic Center
24×23
Costa Verde Corp. & Alyssa's Bookstore (No Visitors Allowed)
74 Civic Center
20×12
The Painted Lady – 2br, 2ba
Vidal
76 Civic Center
20×12
Colonial Casa – 4br, 2.5ba
Collins
78 Civic Center
20×15
Fiesta House – 1br, 2ba
Senorita Hernandez
80 Civic Center
26×26
Beso de Sol Garden (Small Park)
90 Civic Center
48×26
Los Libros Libary (Library)
100 Civic Center
64×64
Civic Center (No Visitors Allowed)
102 Civic Center
30×20
(Visitors Allowed)
The Plaza
64×44
Plaza Park (Big Park)
Isla Paradiso – North
1 Alto Road
40×40
Luxury Villa – 2br, 1.5ba
Alto
15 Dolphin Lane
60×60
75 Fiesta Circle
64×64
La Costa Verde (Resort)
6 Greenbeard Road
40×40
Humble Home, 2br 2ba
10 Modern Mile
50×50
Modern Marvel – 2br, 2ba
17 Paradise Road
40×30
Casa del Sol, 2br, 2ba
The Lonely Lover
25 Paradise Road
30×20
27 Paradise Road
20×20
Cozy Cottage – 1br, 1ba
36 Paradise Road
40×30
The Palms Gym (Gym)
45 Paradise Road
64×64
Sparkling Sands (Resort)
51 Paradise Road
40×30
The Oasis – 1br, 1.5ba
53 Paradise Road
30×40
10 Sea Shell Way
Han
63 Paradise Road
35×25
Oceanview Cemetery (Graveyard)
65 Paradise Road
30×30
A Modern Folly – 2br, 3ba
Medina
69 Paradise Road
30×30
Bachelor Pad – 2br, 1ba
5 Sea Spray Lane
30×25
Sweet Water Pool (Pool)
7 Sea Spray Lane
30×20
The Spanish Queen – 2br, 2ba
Hamada
9 Sea Spray Lane
30×30
Personal Paradise – 2br, 1ba
77 Paradise Road
64×64
79 Paradise Road
30×30
10 Sea Shell Way
35×35
10 Sunshine Street
36×50
Trade Winds Spa and Bistro (Visitors Allowed)
100 Universidad Boulevard
64×64
Accolades Institute and Stadium (Visitors Allowed)
Manufactured Sands, Isla Paradiso
64×34
Sparkling Sands Beach (Beach)
Smuggler's Point, Isla Paradiso
22×22
Smuggler's Lair (No Visitors Allowed)
The Bluff, Isla Paradiso
50×50
El Hospital (No Visitos Allowed)
The Hilltop, Isla Paradiso
30×40
Greenbeard's Fishing Spot (Fishing Spot)
Peaceful Port, Isla Paradiso
30×50
Peaceful Port (Port)
Picturesque Port, Isla Paradiso
25×50
Picturesque Port (Port)
Pleasing Port, Isla Paradiso
50×30
Pleasing Port (Port)
Premium Port, Isla Paradiso
25×50
Premium Port (Port)
Pretty Port, Isla Paradiso
25×50
Pretty Port (Port)
Prominent Port, Isla Paradiso
25×50
Prominent Port (Port)
Promising Port, Isla Paradiso
25×50
Promising Port (Port)
Isla Paradiso – South
5 Beach Boulevard
30×20
Casita Azulita – 0br, 1ba
Torres
1 Camino del Ray
40×40
Castillo de Ichtaca – 5br, 3ba
Ichtaca
6 Camino del Ray
21×15
11 Ocean View Road
30×20
Adobe Abode -3br, 1ba
The Lone Artist
6 Ocean View Way
15×20
Cemeterio Antiguo (Graveyard)
1 Sharks Bay
20×30
Sea House – 2br, 1ba
Ojeda
2 Sharks Bay
30×20
1 The Overlook
30×30
Ichtaca Community Garden (No Visitors Allowed)
2 The Overlook
25×25
Island Jewel Park (Small Park)
Crystal Cove, Isla Paradiso
46×36
Crystal Waters Beach (Beach)
Shimmering Sands, Isla Paradiso
35×25
The Lonely Beach, Isla Paradiso
30×30
Solitude – 1br, 1 ba
The Loner
Port Pescado, Isla Paradiso
25×50
Port Pescado (Port)
Port Playa, Isla Paradiso
30×50
Port Playa (Port)
Port Plenty, Isla Paradiso
25×50
Port Plenty (Port)
Port Popular, Isla Paradiso
30×50
Port Popular (Port)
Port Primavera, Isla Paradiso
25×50
Port Primavera (Port)
Port Prosperous, Isla Paradiso
25×50
Port Prosperous (Port)
Surf Island
15 Riviera Road
40×40
25 Riviera Road
40×40
Holiday House – 3br, 1ba
Babes on the Beach
16 Scuba Street
20×30
(No Visitors Allowed)
15 Scuba Street
30×20
(No Visitors Allowed)
14 Scuba Street
20×20
Fortunate Fishing (Fishing Spot)
13 Scuba Street
25×20
Seasiode Stuff Art Gallery (Art Gallery)
11 Scuba Street
40×20
Petite Park (Small Park)
10 Scuba Street
20×20
Island Beauty – 1br, 1ba
12 Scuba Street
30×30
Cruzita's Groceries and Diner (No Visitors Allowed)
12 Shaka Bra Road
25×25
Rebecca's Cafe (Visitors Allowed)
13 Shaka Bra Road
15×10
Mi Casa – 1br, 1ba
33 Surf Circle
35×45
45 Surf Circle
25×25
Sundancer – 2br, 1ba
47 Surf Circle
30×20
101 Surf Circle
64×64
Hobart's Hideaway (Resort)
Bella Vista Beach, Surf Island
54×50
Bella Vista Beach (Beach)
Sandy Beach, Surf Island
30×40
Spirit of the Sea – 2br, 1ba
Los Amigos
Sandy Shore, Surf Island
30×40
Seaside Escape – 1br, 1ba
Port Perilous, Surf Island
25×50
Port Perilous (Port)
Port Placid, Surf Island
25×50
Port Placid (Port)
Port Pleasant, Surf Island
30×50
Port Pleasant (Port)
Other islands
Port Pyre, Fire Island
30×50
Port Pyre (Port)
The Flats, Fire Island
50×50
Ocean View, Isla Romatica
40×40
Land's End, Isla Zamora
20×20
Surf Shack – 0br, 0ba
Varadi
Dry Land, Kraken Island
30×30
The Modern Hideaway – 1br, 1.5ba
The Siren
Seaside Retreat, Science Island
30×20
(No Visitors Allowed)
The Hill, Science Island
30×20
My First Research Facility – 1br, 1ba
The Scientist
The Lab, Science Island
50×60
Naulitius Laboratories (No Visitors Allowed)
Retreat, Serenity Isle
15×25
The Hideaway, Shark Bite Island
30×20
Port Pepper, The Lonely Isle
30×50
Port Pepper (Port)
Hidden islands
–
64×64
Beryl Shoals
–
30×40
Cay to the City
–
50×60
Diver's Den
–
30×30
Mermaid's Secret
–
60×60
No Trouble Atoll
–
64×64
Plumbob Island
–
64×64
Plunder Cove
–
25×30
Refuge Island
House boats
–
10×12
Aquaholic – 1br, 1ba
The Angler
Port Prosperous, Isla Paradiso
–
12×17
Atlantis – 1br, 2ba
Dregg
Picturesque Port, Isla Paradiso
–
17×22
Fantasea – 2br, 1ba
The Prince
Pretty Port, Isla Paradiso
–
10×12
Happy Houseboat – 1br, 1ba
Promising Port, Isla Paradiso
–
12×17
Odyssey – 2br, 2ba
Port Placid, Surf Island
–
12×17
Our First Houseboat – 2br, 2ba
Arias
Port Pescado, Isla Paradiso
–
12×17
Sea Spirit – 1br, 2ba
The Romantic
Port Primavera, Isla Paradiso
–
17×22
The Floating Fortress – 3br, 2ba
Pleasing Port, Isla Paradiso
–
17×22
Tide Runner – 2br, 1ba
Scott
Port Perilous, Surf Island
–
10×12
You're On a Boat – 1br, 1ba
Port Popular, Isla Paradiso
Ocean
–
64×64
Davy Jones' Locker (Diving Area)
–
64×64
Pearl's Deep (Diving Area)
–
64×64
Rocky Reef (Diving Area)
–
64×64
The Mermaid Grotto (Diving Area)