How I can help someone addressing me cursing words?
I try to be nice even with the angry people because some people may swear me then turn into customers (example), but the following one keep swearing me that I can't help… is not clear what help he needed.
Note: I have no proof that he is from Philippines, I assume this, because he asked me if I am filipino, but mispelled, thus he may be a foreigner interested in Philippines. Also people from Philippines are generally nice, in 2 years of business he remains the only one who insulted me.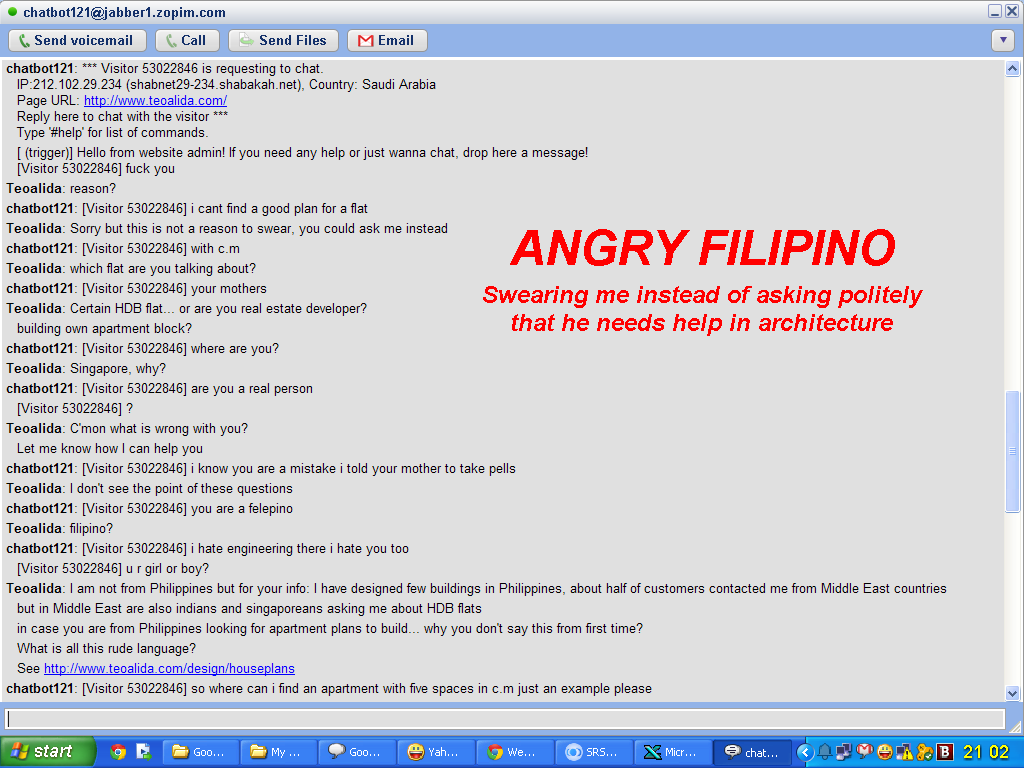 Thursday, 15 May, 2014
Country: Saudi Arabia
Page URL: https://www.teoalida.com/
[17:41] (trigger): Hello from website admin! If you need any help or just wanna chat, drop here a message!
[17:41] Visitor: fuck you
[17:41] Teoalida has joined the conversation
[17:41] Teoalida: reason?
[17:42] Visitor: i cant find a good plan for a flat
[17:42] Teoalida: Sorry but this is not a reason to swear, you could ask me instead
[17:42] Visitor: with c.m
[17:42] Teoalida: which flat are you talking about?
[17:43] Visitor: your mothers
[17:43] Teoalida: Certain HDB flat… or are you real estate developer?
[17:43] Teoalida: building own apartment block?
[17:43] Visitor: where are you?
[17:44] Teoalida: Singapore, why?
(NOTE: so far he clicked 8 floor plans of Singapore HDB flats show on my website, so I though that he is singaporean asking for floor plan of a HDB flat)
[17:44] Visitor: are you a real person
[17:44] Visitor: ?
[17:44] Teoalida: C'mon what is wrong with you?
[17:45] Teoalida: Let me know how I can help you
[17:45] Visitor: i know you are a mistake i told your mother to take pells
[17:45] Teoalida: I don't see the point of these questions
[17:46] Visitor: you are a felepino
[17:46] Teoalida: filipino?
[17:46] Visitor: i hate engineering there i hate you too
[17:47] Visitor: u r girl or boy?
[17:47] Teoalida: I am not from Philippines but for your info: I have designed few buildings in Philippines, about half of customers contacted me from Middle East countries
[17:48] Teoalida: but in Middle East are also indians and singaporeans asking me about HDB flats
[17:48] Teoalida: in case you are from Philippines looking for apartment plans to build… why you don't say this from first time?
[17:48] Teoalida: What is all this rude language?
[17:48] Teoalida: See https://www.teoalida.com/design/houseplans
[17:49] Visitor: so where can i find an apartment with five spaces in c.m just an example please
[17:49] *** Visitor is now viewing https://www.teoalida.com/design/houseplans/ ***
[17:49] Teoalida: 5-room apartment?
[17:49] Teoalida: or 5 apartments in one building?
[17:49] Visitor: no just five spaces
[17:50] Visitor: no no one apartment only
[17:50] Visitor: with five spaces
[17:51] Teoalida: something like these? http://img163.imageshack.us/img163/5763/5roomapartments.png
[17:51] Visitor: are these in c.m
[17:51] Teoalida: five spaces in c.m – what is C.M ?
[17:52] Visitor: canti meters
[17:52] Teoalida: what is CANTI? I show the rooms size in SQUARE meters
[17:52] Teoalida: anyway, if you want to help you with a apartment design, I need land dimensions (length and width)
[17:53] Visitor: thank you ,you didnt help with anythink dickhead
[17:54] Visitor: whats your instagram account??
[17:54] Teoalida: and YOU didn't asked me anything clear… just swearing
[17:54] Teoalida: I don't use instagram
[17:54] Visitor: what do u ude?
[17:54] Visitor: use***
[17:54] Teoalida: use for…?
[17:55] Teoalida: Yahoo and Gtalk are enough for communication
[17:55] Teoalida: Images are hosted on my own server
[17:55] Visitor: no i mean for social life friends and bitches??
[17:56] Visitor: do u wanna go to a nightclub stripclup??
[17:56] Teoalida: Social life means face-to-face, no? how I can use a software
[17:56] Teoalida: I chat with real life friends via Yahoo messenger, eventually Facebook
[17:56] Visitor: seriously !!!!
[17:56] Teoalida: if that's what do you ask
[17:56] Teoalida: but let's stop kidding
[17:56] Visitor: see you in hell
[17:57] Teoalida: Your behavior give impression of a kid browsing random websites to swear the owners…. not like a customer
[17:58] Teoalida: I am in DOUBT if anyone will help you if you address with such language
[17:58] Visitor has left the conversation