TEMPORARY PAGE to show to webdesigners what I changed last months on website and get suggestions what else to improve
Website redesigned on 3 May 2015: I replaced "Simple eCommerce" plugin with "Easy Digital Downloads" See how the old website was looking, using simple eCommerce.
Unlike Simple eCommerce, the Easy Digital Downloads plugin create automatically pages for each product, and display products in a grid with excepts that do not allow any kind of formatting, being no longer able to put "Download SAMPLE" on home page, customers had to click product image then download sample.
In my opinion the old one had a better design, but the new one have better functionality. What do YOU think?
– Additional chances, pages removed, text moved from one page to another, etc, done over next weeks.
– Integrated in product grid also the FREE products and two of the UPCOMING products, allowing you to download them for free (Simple eCommerce did not allowed free downloads, even if I put them at 0.00 price you had to go through Paypal payment), previously the free products had "download full" buttons similar with "download sample" except Car Models List & Timeline which to get them for free you had to contact me and I was emailing you manually… I gave Car Models List & Timeline to only 5 people in one year, in this way.
– "FREE databases" page deleted on 20 May.
– Found that is possible to post shortcodes for each category of products, so I created pages Europe, America, Worldwide, also created back the Free databases page.
Which is better? Simple eCommerce vs Easy Digital Downloads?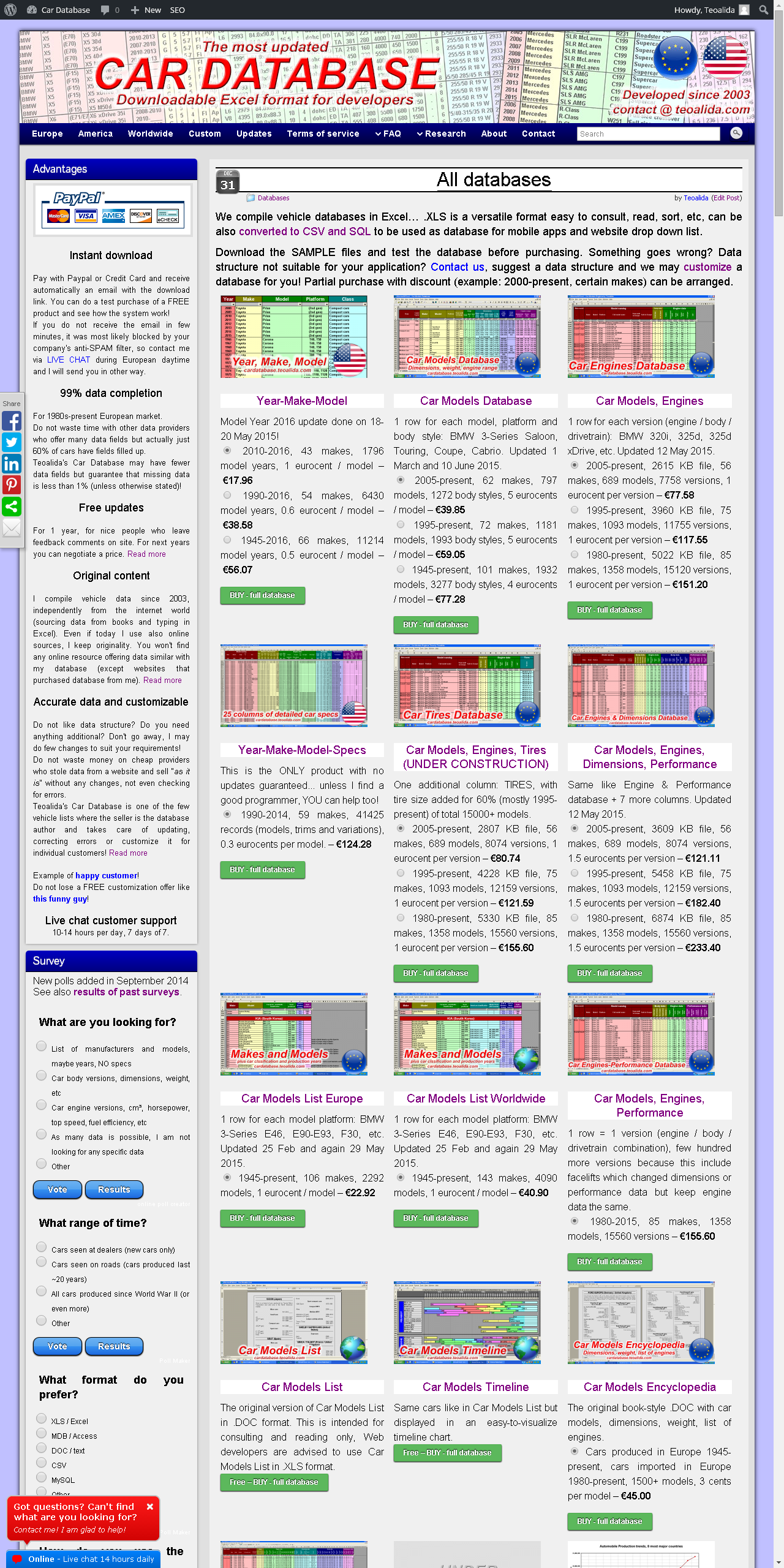 The actual reason for this change: moving from shared server with cPanel + Apache to VPS with Webuzo + Nginx screwed up the Simple eCommerce. The unique download links contains a ? sign and Nginx was redirecting them to page like when the link with ? was not existing, making the instant download to FAIL, had to email products manually.
Hosting company support and Webuzo support are BAD, did not provided a working solution. The plugin developer is also not helping me unless I pay for premium version (WP Shop Cart), which have same core files so probably won't work as well. Additionally, it had a BUG: 10% of customers reported that after adding to cart, when clicking Checkout, they got "Your cart is empty", although some customers succeeded to bypass the bug after multiple tries, I may have lost few sales due to this.
The only solution was to look for another plugin. Easy Digital Downloads use same king of links with ? sign, but surprisingly automatic instant download works! You can test it by purchasing a FREE product and see how do you receive it automatically.
---
The change to Easy Digital Downloads coincided with 50% drop of sales in May compared with previous months.
Only 6 paid sales (plus about 20 sales of free products, of which 6 sales of UPCOMING "The BIG Database" which is not actually a free product but the price needs to be negotiated with customer).
– Possible cause: lack of Download SAMPLE buttons on home page.
– At end of May I removed product grid shortcode and created manually a table similar with the one generated automatically by East Digital Downloads, with product image, description, shortcodes for each product to display price options and Add to Cart button, but most importantly, I added "Download SAMPLE" buttons.
Stupid behavior from some customers: The UPCOMING products, were integrated in product grid in May, at 0 price, with a message inviting people to contact me if are interested and negotiate a price. and the file download link was linked to the 1-brand sample.
BUT… they were purchasing without any communication with me, without even viewing the product page.
I emailed all them, reminding that if they are actually interested in the 40-column UPCOMING "The BIG Car Database", they need to make a price offer and if they need a database soon, can purchase the 20-column version which is READY, or asked them to confirm if they wants Car Nameplates List for €20 and informed that I can do it in 3 days… NONE replied.
These people either were not interested in my price offer and just wanted to test what they get for FREE, either got disappointed for receiving only 1 brand and not complete database, and though that I am not serious.
Putting the actual price of database for a product that can be made in few days starting from the date you request it to be made, will be even worse if someone pay the money expecting to receive the finished product instantly, then get angry and ask for refund.
---
Sales in June were even worse than May!
"Download SAMPLE" buttons were added back in May… so what ELSE is wrong?
I start questioning if the large amount of sales for free products is culprit. I intended to offer few FREE products so people can test the automatic delivery system and encourage them buying paid products, but only 1 of 20+ who downloaded a free product have purchased a paid one, I am afraid that otherwise happen, people get disappointed by how little info is offered in the free products and don't bother purchasing paid products. Need to know if they downloaded free products because they are interested in them, or just because they are free so had nothing to lose. I emailed the customers purchasing free products, asking such question… NONE replied.
– in mid-June I removed again the "FREE Databases" from menu, maybe it encouraged people to get free products and distract them from purchasing the paid ones.
– On 29 June I found in Easy Digital Downloads settings an option "1-click download" and activated it. Previously people had to click Add to Cart then click again same button which was changing in Checkout.
---
Sales boomed since start of July, over entire month making a new all-time sale record!
Did not made more than 10 sales, but sold 5 "Car Models & Engines", "Car Models & Engines & Dimensions, etc" products ranging from 120 to 230 euro, compared with previous month when 4 of sales were for "Car Models List at 22 euro only.
Don't know this profitable month is a RARE incident, or the "1-click purchase" was the culprit and helped sales… by having only 5-10 sales each month (paid sales, excluding free products) is difficult to benchmark.
Customer complain about website design: in early July I talked with a customer from France , who put me in confusion, and suggested things that I was already doing, thus not understanding what he don't like and what I should improve.
Few days later, meet an American customer and engaged in webdesign talk, initially was same headache, but after 1 hour of talking I learned few things… and decided to change my strategy, instead of putting ALL INFO on first screen so people can see it without scrolling down or doing extra clicks (many people are lazy), to put LESS info on first screen and the visitors have to do more clicks to get the product info.
I done new change in website design on 19 July: seen the following screenshots.
In attempt to remove 60% of text from product grid, I removed product shortcodes, for the first time since March 2013, I no longer display prices on home page, instead displaying buttons to go in individual product page where you can see prices.
1-click purchase from home page is no longer possible…. again.
On 30 August, on the region pages (Europe, America, Worldwide) I built manually product grid similar with home page one, but displaying product variations and prices, for who prefers the May-June design of homepage's product grid.
Effects: bounce ratio improved from 60% to 50%, but is too early to take a conclusion about effects on sale volume.
Manually-made product grid: June vs July redesign
(Part of) email discussion with the customer from France
YOU ONLY NEED:
– A HOME PAGE introducing your services and giving links to your family products, +contact form
– A PAGE for each family products (car database, game database, etc…), containing informations about what you have to sell (makes models motorisations dimensions power etc….) with a little explanation saying you can also personalize the database + 1sample + BUY NOW button
THAT'S ALLLLLL!!! Or maybe you can add a "blog" where you can explain what you did since the beggining etc if you want to…
---
I have Download Sample and BUY buttons, why do you still comment this?
Explanation that I can customize the database is on sidebar, thus visible on all pages, also at top of home page "Download the SAMPLE files and test the database before purchasing. Something goes wrong? Data structure not suitable for your application? Suggest a data structure and we may customize a database for you!".
Do you say that I only need a HOME PAGE… referring at the fact that current home page display last 8 posts.. thus have A LOT of text? Suggest making a static home page with only product grid? I experimented this in 2014 and lost 60% of traffic. More text in home page = more keywords for Google. I wonder how many visitors and sales have Pluup as its search result ranking is worse than mine.
"informations about what you have to sell" I have added this in May 2015 in text format, example 
https://www.teoalida.com/cardatabase/car-models-engines-dimensions/
 alternatively I can add one piece of info on EVERY ROW as Pluup does, but this may make website pages TOO LONG vertically while computer screen tends is to get bigger horizontally. But people can see this directly on screenshot. Screenshot itself show how 99% filled up is the database (unlike others).
I think that you're a great webdesigner but lack SEO knowledge.
Some people criticized my website for having "too many colors" and Pluup have even more colors and you like it.
Let me ask you… do you like all text black on all white background? or black or dark color text on various shades of white and gray? Or do you like parts of page to be white text on dark backgrounds while rest black text on light backgrounds?
---
Yes that's true i lack SEO knowledge. I give up and leave you manage your site like you want.
---
Been contacted by an american customer, after discussing with him, I emailed again the French guy:
Meantime let me teach you… what I learned from yesterday customer who was HELPFUL compared with you, even if the 
discussion was initially CONFUSING like yours, after I repeated myself few times, because I asked him to comment colors and he was commenting the text, he finally answered my questions, and
learned 4 suggestions (which you FAILED to teach me):
1. he said to put LESS INFO "on the fold" which contradict my gold rule to have as much essential info on "on the fold" as many people are lazy to scroll down to see "behind the fold". he saying that this is why people use Google over Yahoo, because it don't have a bunch of shit on page. Honestly.. I like Yahoo for having also news and other stuff. But I will evaluate how can implement his idea on my website.
2. he suggested a full-width theme with sliding banner, etc, saying that this is modern and my website looks 1990s. This is exactly the type of websites that I personally HATE. Maybe I am old-school?
3. he did not suggested, but I realized indirectly, that would be better to have product variations in drop-down list. My current plugin do not have this feature, but I am looking for alternate options.
4. Pluup is a BAD website in terms of colors used, but GOOD in the fact that it have far less text than mine. You said that love Pluup but didn't CLEARLY explained why. So it is attractive for customers if you manage to find it. With such less text no wonder why it ranks worse than me. He admitted that sucks at SEO like you. Over last months I added more and more text on website and guess what, traffic and SALES RISE!
I need to find a compromise solution between good SEO but scary customers with too much text, or reduce text and lower SEO but increasing sales / conversion ratio.

On 3 May when installed Easy Digital Downloads, it allow making product variations, I added 1995-present and 2005-present packages, hoping that this will RAISE sales… by making more flexible prices for the customers not interested in very old cars, BUT this added 6 additional lines of text for each product. This coincided with the DROP in sales. Maybe this additional text was the culprit?
However this month in 20 days I earned as much like in May and June together after activating "one-click purchase". This was another culprit.
in early 2013 customers suggested putting prices clearly visible on home page. This increased sales but raised bounce ratio. In early 215 Ie added prices also on individual product pages, this caused some info to be duplicated in both main page and each product page. Today I done this: https://www.teoalida.com/cardatabase/new-home-page/ and removed 60% of text BUT removed prices too, now people need to click each product to see prices. Also in product pages I moved BUY buttons at top of page instead of bottom. Expect bounce ratio to go lower (better), BUT… do you think that will help or worse sales?
aaa